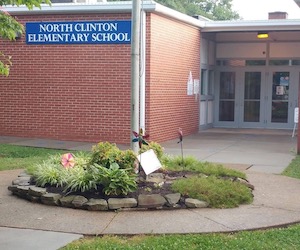 NCES STUDENT HANDBOOK 2020 - 2021
MESSAGE FROM PRINCIPAL
Welcome to North Clinton Elementary School! This is a school that cares deeply about its students growing and learning to their fullest potential every day. Our goal is set on each child becoming successful, lifelong learners who contribute to the community that does so much for them. North Clinton classrooms provide engaging, interactive lessons to provide students with a strong foundation ready to move ahead into the college and career of their choice.

A 2016-2017 Reward School, North Clinton is academically driven, with a strong fine arts program, and brand new system-wide athletics program to educate the whole child every day.

I hope that families feel free to contact me and our teachers at any time with questions throughout the year. We are happy to help you and your family in any way that we can!

Monica Rael
Email: raelm@clintonschools.org
Phone: (865) 457-2785
ARRIVAL/DISMISSAL PROCEDURES
ARRIVAL
Our school day begins at 7:45 a.m. Doors will open for students at 7:15 a.m. with a staff member present for safety. After the 7:45 bell rings, a parent must bring students to enter the front door for a tardy slip from the office as all other building doors will be locked (please see heading regarding tardies on the following pages).

Our Pre-K students can be dropped off at the pre-K entrance only from 7:30 a.m. to 8:00 a.m.
All K-6 car riders will still need to enter the gate from the Beets Street entrance. If your child walks to school, he/she should enter through the front doors of the school by the office and report to the cafeteria. Students will be picked up from the cafeteria by their teachers between 7:30 and 7:35 for breakfast in the classrooms on Monday through Friday.

BREAKFAST IN THE CLASSROOM
NCES will continue to offer students free breakfast which will be served in the classroom from 7:30-7:50.

DISMISSAL
School is dismissed at 2:45 p.m. for grades K-6 and 1:30 p.m. for Pre-K. For K-6 car riders, enter the gate from Beets Street and pick up at thegym instead of the cafeteria. You will then proceed to McAdoo Street to exit the school. Pre-K will be dismissed at the same location as their arrival after being signed out by a parent. Walkers in K-6 will be released at 2:45 p.m. and must exit through the front doors by the office. During the first week of school, each student will be given two rearview mirror tags with their names on them. Persons picking up students from the car rider line must have a tag and be listed on your child's data form for the safety of every student. Please display the tag on the inside rear view mirror so school personnel can read it. If you do not have your car rider tag you will be asked to go to the office with appropriate I.D. Your child will be in their assigned area in the gym and when the tag is identified, we will have the child/children ready to place in the car. If more than two cards are needed, please make sure to request them in the office. No students will be allowed to leave in a car at dismissal through the front door.

BIRTHDAY CELEBRATIONS/PARTIES
Before sending in any items to celebrate student birthdays or other celebrations, we ask that you consult with your child's teacher. Due to food allergies, all food items must be store bought so that we may have a complete list of ingredients. We also request that birthday invitations are not handed out at school unless the invitations are delivered to the entire class. Thanks for your understanding.

CHANGE OF ADDRESS/TELEPHONE NUMBERS/PLACE OF EMPLOYMENT
It is very important that your child's teacher and the school office have a correct address and telephone numbers to reach you in time of emergency situations. If any of your registration information changes, please notify your child's teacher and the office as soon as possible. The safety of your child is very important to us.

CHECK OUT PROCEDURES
We ask that you help keep all students safe by being prepared to show your driver's license or other picture identification when checking out your child. Please note: Your child will not be released with any individual unless they are on the data sheet and have been authorized for pick up. Authorized individuals for pick up will include the primary contacts and the emergency contacts listed on the data sheet. Any other individual will not be allowed to pick up your child unless the school receives notification from the parent either by calling the office or sending in a written request of a change in procedure.

CODE OF CONDUCT
Please read and discuss the Code of Conduct found in the Clinton City Schools Handbook with your child. Students are expected to behave in an appropriate manner that will ensure our classrooms are safe learning environments for all children. Our school practices with three expectations:
* Be Safe
* Be Responsible
* Be Respectful

COMMUNICATION
Newsletters will come from the principal's office at the beginning of each month. All teachers will send home a newsletter at least once every nine-week grading period. Email addresses are available on the web and in teacher newsletters for contacting teachers. Teachers are not allowed to have meetings at the morning drop off or during dismissal of school unless prior arrangements have been made for a conference. These two times of the day are critical for teachers in making the day productive and keeping our children safe. The teachers must have full attention to their responsibilities both for morning drop off and afternoon dismissal.
A parent meeting will be held during the first month of school. Two official conference days will be scheduled during the year; however you are welcome to call for a conference whenever you feel necessary. You are encouraged to communicate with your teacher frequently. For your child to have the most success in school, the school and parents/guardians must work together.

Your student's academic information will be provided to families if they attend Open House or in their first Tuesday Folder. Please log in right away to see important messages, sign up for alerts, and view grades as they're entered.

CUSTODY ARRANGEMENTS
If there are any legal custody or divorce settlement information that the school should be aware of regarding a student, notify the school office in writing. This information MUST include printed copies of pertinent legal documents pertaining to custody arrangements, residential custody, joint custody, orders of protection, etc. It is extremely important that the school knows if a student is not to be released to a specific person. The school can only act on the legal paperwork submitted so it is critical to keep updated legal documents as part of your child's records.

EMERGENCY/SECURITY DRILLS
As part of our safety plan we are required to conduct monthly drills to practice in the event of an emergency. We will be conducting these drills to practice our fire, tornado, medical, and lockdown procedures. It is not our intent to frighten our children. Teachers will speak with their classes about what we would do in the event of each emergency before we have our first drill.

EMERGENCY CONTACT INFORMATION
Emergency forms should be updated whenever there is a change. Please be sure to notify the office immediately of any changes to home address or home phone number. It is also extremely important that we have correct work numbers for parents in case of emergency. In an emergency, the parents will be called first. However, if parents cannot be reached, we must have at least three local available friends or relatives to contact in case of illness or emergency. Children are released only to an adult listed on the data sheet.

MEDICATION POLICY
It is preferred that medications be given at home if at all possible. There are situations where a student does need to take long-term medications daily at school. If a student needs to take medicine at school, the following guidelines will be used:
* All medicines will be kept in the clinic, labeled, and locked in the cabinet.
* Written instructions signed by the parent and physician for all prescription medicines will be required and will include: student's name, name of the medication, purpose of medication, the time to be administered, dosage, and the termination date for administering the medicine. Medication WILL NOT be given without the information described.

Non-Prescription Medicines
Written instructions signed by the parent or guardian will be required for all nonprescription medicines and will include: student's name, name of medication, purpose of medication, and time and amount of dosage. This medicine must be kept in the clinic.

LEAVING SCHOOL PROPERTY
Students may not leave the school grounds without parent and school permission. Students leaving the school before 2:45 p.m. must be checked out through the school office. Parents must come into the school office and sign their child out of school. The school secretary will call the student's room and have them report to the office.

LUNCH VISITS
Parents/guardians are welcome to eat lunch with your child at school. Please sign in at the office before going into the cafeteria. Students are not permitted to have soft drinks in the cafeteria due to state nutrition requirements. Parents/guardians may only provide lunch for their own children and cannot share lunches or snacks with other children. If an outside lunch is brought in, family and student will have an alternate lunch area provided. Please strictly adhere to this due to student food allergies.

MESSAGES
Every effort for student arrangements should be made before your child leaves home. We understand that emergencies do arise, and we will deliver messages should an emergency situation occur. Emergency changes should be given to the school no later than 2:00 p.m. to ensure time to get the message delivered to the student.

PARENT/TEACHER/COMMUNITY CONNECTION (PTCC)
This group has been specifically formed to continue meeting needs of our children and encouraging our parents and community to be as involved as possible in our children's education. Please consider getting involved this year with PTCC to help support our students.

PARENT/TEACHER CONFERENCES
You are welcome and encouraged to contact your child's teacher whenever you wish to discuss your child. There are several options for contacting your child's teacher. You may utilize email, written notes, or phone calls. Please know your child's teacher will respond to your request within a timely manner but no later than 24 hours after the initial contact was made. If you have not been contacted within the 24 hour time frame, please contact the office so that the school staff can assist with your request.

PRINCIPAL
The principal welcomes and encourages all parents to communicate with her. You may utilize email, written notes, or phone calls. I will respond as soon as possible. In the event of a problem, please contact your child's teacher first. The principal will enter the problem solving process if the parent and teacher are unable to develop a mutually agreeable solution.

SNACKS/ICE CREAM
Snack times and procedures will vary from classroom to classroom, but all NCES students are encouraged to bring healthy snacks to the classroom. Students in grades 2-6 may purchase ice cream each day if they choose. First grade students may buy ice cream on Fridays. Kindergarten students do not purchase ice cream. This is usually reserved for whole class celebrations.

STUDENTS GOING HOME WITH OTHER STUDENTS
If a student plans on going home with another student, school policy requires that the school has written permission from the parent of both students. Students should bring these notes to the principal's office in the morning. Principal will approve and then send needed information to teachers.

TARDIES
Students who arrive at school after the 7:45 bell rings must be accompanied to the office by a parent or guardian. The parent must sign the student into school and the student must receive a tardy slip before going into the classroom. Please make every effort to have your child at school on time. Students who arrive late not only miss valuable instruction, but also cause interruptions in the classroom routine. Children coming to school late and without escort from parent will have an unexcused tardy issued. When tardies become an issue along with attendance, then the tardies will be addressed with our Attendance Supervisor from Central Office, and if necessary, with the Anderson County Juvenile Court System.

TOYS/VALUABLE ITEMS
NCESstrongly encourages toys and games be left at home unless the teacher has allowed the students to have an incentive day to bring them. The school is not responsible for items lost, broken, or stolen if brought to school.

MORNING DROP OFF AND PICK UP FOR PRE-KINDERGARTEN
Car riders will need to enter the school using the Beets Street entrance. Students participating in the Pre-K program will be dropped off at 7:30 a.m. Please remember that federal guidelines indicate that your child cannot be dropped off until an adult meets you and signatures are required that your child was dropped off on this date and time of drop off. Parents must park in a designated parking space to walk students into the room. Cars will not be allowed to park in the driving lane to drop off and/or pick up. Students participating in the Pre-K program cannot be dropped off before 7:30 a.m. For afternoon pick up, the same procedure will be used as for the morning drop off. Remember that afternoon pick up is at 1:30 p.m. All car riders for Pre-K will utilize McAdoo Street to exit the school.

FIELD TRIPS
Students are required to have parent or guardian signature before attending a field trip. NCES school policy requires that younger siblings not be brought on a field trip for safety and liability reasons. We appreciate your understanding and cooperation with this policy.